Kleine Meldung am Rande. Die Suchmaschine DuckDuckGo will künftig auf Apple Maps setzen, wenn Nutzer nach Orten suchen und eine Karte eingeblendet wird.
---
Anzeige

---
Die Betreiber von DuckDuckGo sind dazu eine Partnerschaft mit Apple eingegangen, um die Karten von Apple Maps einbinden zu können. Dies geht aus dieser Ankündigung hervor. Die Macher schreiben:
We're excited to announce that map and address-related searches on DuckDuckGo for mobile and desktop are now powered by Apple's MapKit JS framework, giving you a valuable combination of mapping and privacy. As one of the first global companies using Apple MapKit JS, we can now offer users improved address searches, additional visual features, enhanced satellite imagery, and continually updated maps already in use on billions of Apple devices worldwide.

With this updated integration, Apple Maps are now available both embedded within our private search results for relevant queries, as well as available from the "Maps" tab on any search result page.
Wenn ich den obigen Text richtig interpretiere, wird das nur auf Apple-Geräten genutzt. Denn das in der Ankündigung gezeigte nachfolgende Bild enthält eine OpenStreet-Map-Karte.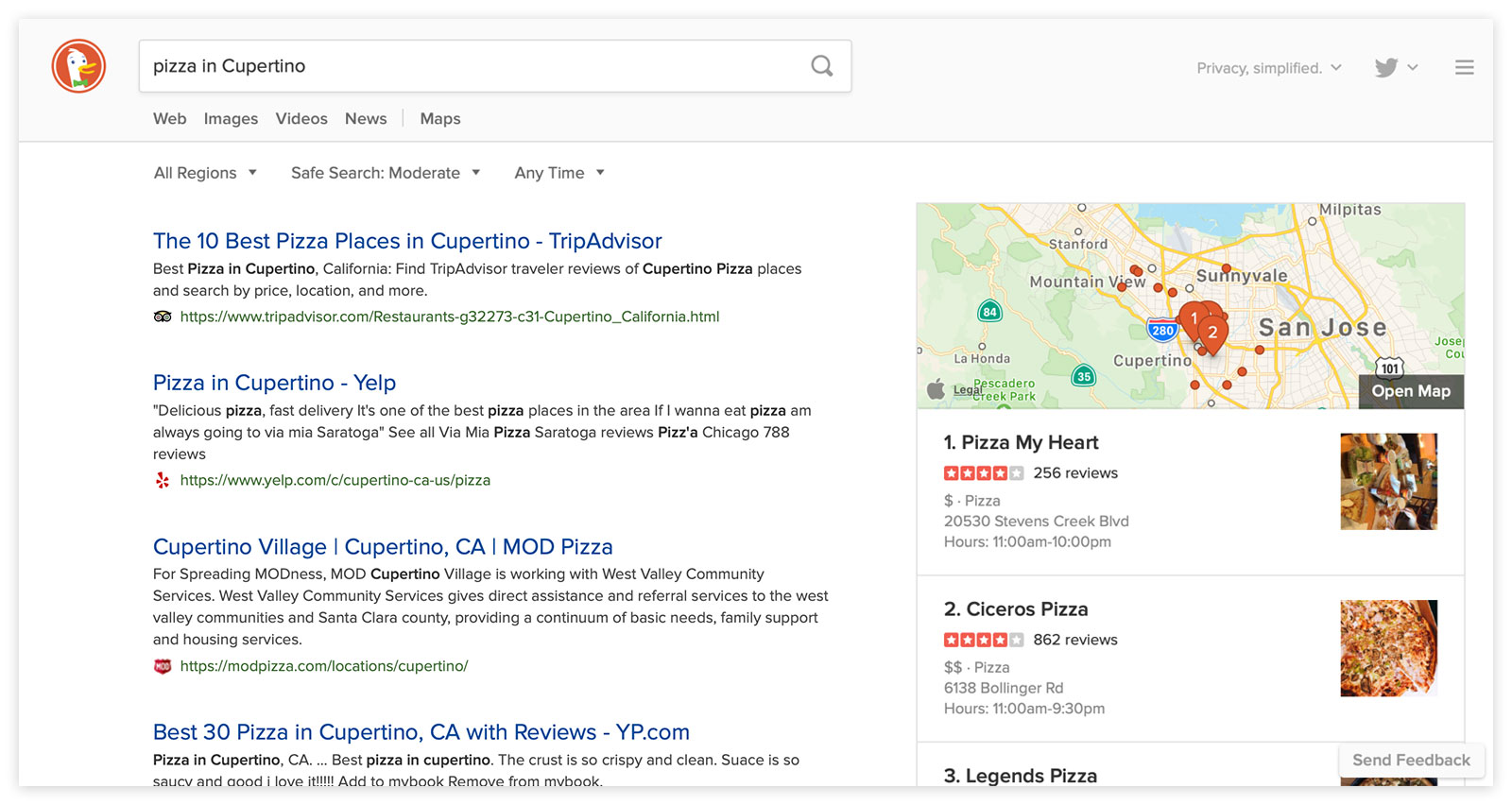 Ich habe mal auf dem Windows-Desktop der duckduckgo.com nach Frankfurt suchen lassen. Dort wird ebenfalls eine Karte von OpenMap (wie auch in obigem Bild) eingeblendet. Und bei Anwahl eines Orts (z.B. Pizza), werden mir am Desktop Bing-Karten angeboten. Man kann aber bei einer Streckplanung zwischen Bing, Google Maps, HERE Maps und OpenStreetMap umschalten. (via)
Nachtrag: Die Redaktion von heise.de hat im Newsticker einen Artikel mit weiteren Hintergrundinformationen veröffentlicht.
---
Anzeige