[German version]Here I have described, how to create a Windows 8 To Go installation on a USB hard disk. The solution had a few disadvantages. First of all, it requires an old Windows 8 Build (I used Portable Workspace Creator, which was removed from Build 8102). And I wasn't able to test my procedure with an 16 GB USB thumb drive,  because the minimum is a 32 GB USB memory stick. Now I found a simpler way, to bring the Windows 8 Developer Preview as Windows 8 To Go-Version to a 16 GByte USB-Stick (work's also with USB hard disks).
---
Anzeige

---
Wrong paths …
My first approach was, to install Windows 8 in a virtual machine, using a 16 GB virtual disk. Then I tried to clone this virtual disk to a 16 GB USB thumb drive using the Linux-Tool GParted. But I failed, because GParted terminated during copy operation with errors. The USB memory stick was bootable, but Windows 8 couldn't load.
One other idea, I have had, was: create a 350 MB boot partition and a 2nd 5,3 GB Windows partition using GParted and format that as NTFS drives (diskpart won't support that). This approach offers the possibility to use the WAIK (Windows Automated Installation Kit)program imagex.exe to copy the Windows files to the 2nd Windows partition. But I also failed.
At least I discussed my toughts about imagex on German forum WinVistaSide.de. User hoschi80 cited the following from a BUILD presentation.
The same APIs used to deploy desktops and laptops can be used with Windows To Go
imagex /apply N:\Images\my-windows-partition.wim 1 W:\
Bcdboot.exe w:\windows /s X: /f ALL
After reading that cite, I rembered this arcticle, that should point to the right direction. A few hours later, user hoschi80 directs me to a second article, that confirmed my thoughts.
Step by Step: Windows 8 To Go on a 16 GB USB memory stick
First of all, we need to boot the Windows 8 Developer Preview (for instance in a virtual machine). Then it is mandatory, to mount the ISO file of a Windows 8 Developer Preview (I have used the 32 bit version). We also need the Windows Automated Installation Kit (for Windows 7), because the WAIK file imagex.exe from the Tools folder is required. I have copied the recommended 32 or 64 bit version to my Windows 8 machine.
After connecting the USB memory stick to Windows 8, we need to create a NTFS-formated primary partition on the USB memory stick. This can be done using Computer Managment-Console (branch disk management). Or you can invoke the command prompt windows using Run as administrator. Then you can use the following diskpart-commands to create the ntfs partition.
---
Anzeige

---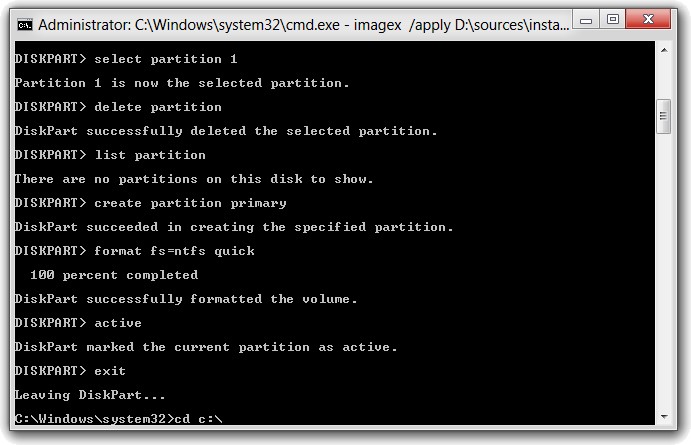 diskpart
select disk 1
select partition 1
delete partition
create partition primary
format fs=ntfs quick
active
exit
You can use list disk to query all drives, and list partition shows all partitions on a drive. The select command selects the drive and the required partition. Above I used disk 1 and then I deleted an existing partition on the memory stick. Afterward I created a primary partition and formats it with ntfs. The active command made the stick bootable.
After terminating diskpart, we need to copy Windows files to the USB thumb drive using imagex.exe. This can be done, using the following command in a administrative console window.
imagex.exe /apply d:\sources\install.wim 1 f:\
Here I launched imagex.exe from the currect directory of my Windows 8 drive. D: was the DVD drive (containing the setup media with the file install.wim)and F: was the drive letter of my USB memory stick. The number 1 defines, that only on Windows 8 edition should be copied.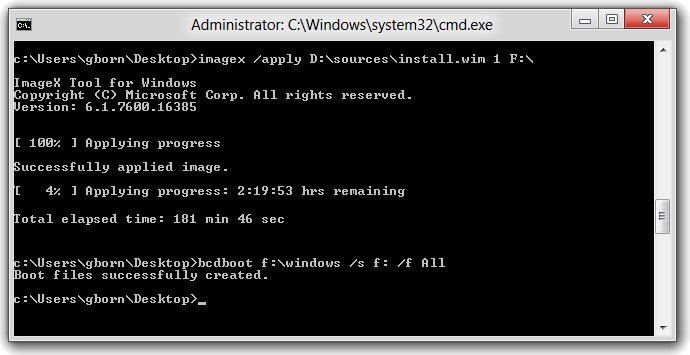 After copying Windows successful to the thumb drive (on my system it took nearly 3 hours to finish), we have to copy also the boot files to the media. This can be done using the following command:
bcdboot.exe f:\windows /s f: /f ALL
within an administrative console windows. Drive f: is my USB memory stick. The command writes the boot files from the current Windows directory to the boot area of the target media.
Executing the commands above sucessfully, the USB memory stick should contain the files shown below. After unmounting the USB thumb drive the media can be used to boot a system.
To force a boot from USB memory stick (pen drive), it is required to invoke the BIOS boot menu (pressing a key like ESC, F8, F11, depends on BIOS version and vendor) and select the boot device. After selecting the USB media as boot device, Windows 8 should boot and starts configuring the system. The screen below shows the setup page to enter the computer's network name.
During first setup, some reboots are necessary. Keep your attention to invoke the BIOS boot menu and select USB media to boot (otherwise the OS installed on the system disk will be booted). After configuring your Windows 8 To Go, the login screen should be visible. Below is my MSI Wind 100 netbook, showing Windows 8 start screen (I have used Windows 8 To Go on a 300 MB USB 2.0 hard disk).
Remarks: Using the steps described above brings Windows 8 Developer Preview to a 16-GB-USB thumb drive (or a USB hard disk) as Windows 8 To Go. The advantage against my 1st solution: we don't need a Windows 8 Build containing Portable Workspace Creator, and we can keep existing partitions on a USB hard disk. The disadvantages are: We don't have a 2nd partition "system reserved", that is needed to set up bitlocker.
For my tests I have had only a 16 GB USB 2.0 thumb drive. I was able to boot my system with this memory stick. But the solution wasn't really useable. Whilst I was able to use my USB 2.0 hard disk with Windows 8 To Go in a reasonable way, the USB 2.0 thumb drive took a long time to boot – more than 5 minutes – and setup the system for the first time. After entering the password in login screen, I waited 10 minutes. I could see activities on the USB thumb drive, but I still have had a black desktop with mouse pointer – and no start-screen. This is too long and I terminated my test.
Recommendation: If you intent do experiment a bit with Windows 8 To Go, I strongly recommend a 32 GB USB 3.0 thumb drive (or USB hard disc) and a computer with USB 3.0 support.